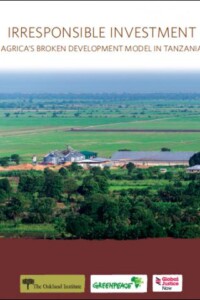 Norfund, the UK aid department, and Capricorn are funding the British company Agrica's industrial rice plantation in Mngeta, Tanzania, which is destroying the livelihoods of smallholder farmers, driving them into debt and impacting the local environment, according to new research by The Oakland Institute released in collaboration with Greenpeace Africa and Global Justice Now.
Agrica's rice plantation in Tanzania has been used as a showcase project of the G8's New Alliance for Food Security and Nutrition and the Southern Agriculture Growth Corridor of Tanzania.
The report, Irresponsible Investment – Agrica's Broken Development Model in Tanzania, documents a catalogue of devastating impacts on local communities.